General
Non-civilian staff and cadets wear uniforms, based upon those worn by the regular Royal Air Force.
Commissioned Officers of the Royal Air Force Reserve (Training) Branch follow the Uniform Dress & Appearance Regulations for the Royal Air Force (AP1358). Senior Non-Commissioned Officer's (SNCO's) and all Cadets follow the Uniform Dress and Appearance Regulations for the Air Cadet Organization (AP1358C). While the regulations are similar, there are some differences in naming conventions and permitted modes of dress
Cadets
After a short probationary period, Cadets are issued with a uniform, which the RAF issues on loan, whilst they are members of the squadron. The only personal purchases cadets are expected to make are black MoD approved boots,  shoes, socks (and/or tights for female cadets) consistent with Uniform Dress and Appearance Regulations for the Air Cadet Organization (AP1358C). Cadets are also expected to provide their own cleaning materials, necessary to maintain their uniforms.
Order of Dress
As with the RAF, there are several modes (or order of dress), which means that uniform should  be worn in a particular style depending on the occasion or squadron orders in accordance with the Uniform Dress Regulations. It should never be randomly mixed or worn outside official duty without the explicit authority from the Squadron Commander or the ACO. The Squadron will advise on the appropriate order of dress in advance of parade nights, training activities or other events. If there is uncertainty, it is the cadets responsibility to check with the squadron well in advance of attending a parade or training night.
Standard Issue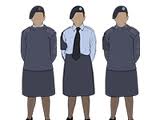 Male and female Cadet uniforms vary slightly, with female cadets occasionally substituting trousers for slacks or skirts, in accordance with the prevailing Dress Order.
Cadets are generally issued (subject  to availability and any relevant standing orders) with the standard uniform items, necessary for them to parade in:
No 2 (Full) Service Working Dress Uniform (No 2 SD) (includes a jersey, long-sleeved wedgewood blue shirt and tie.) It is worn on special parade nights, inspections and formal events.
 No 2A (Long Sleeved) Routine Working Dress Uniform (No 2A SD). Similar to No 2 SD but without the jersey and is essentially a warm weather formal uniform.
No 2C (Working Dark Blue) Routine Working Dress Uniform (No 2C SD).  Short Sleeve Order (occasionally referred to as 'summer dress')  is worn warm weather and is the standard working blue uniform with sleeves rolled up smartly without the top button done up. Routine or  'Winter' dress consists of  the working blue uniform with sleeves rolled down and the jumper worn over the top.
No 2C is a cadet's all purpose standard uniform, normally worn on parade nights and routine events.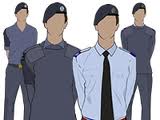 No 3 Service Dress Operational Clothing: Combat Soldier 95 (CS95), Multi-Terrain Pattern (MTP) and Multi-Cam (often known just as  "DPM 95″ or "Greens".
DPM's or 'Greens' are mainly used for outdoor activities including field craft, night exercises, cadet leadership camps etc.
Non-Standard Issue Uniform
The following items of uniform may be temporarily issued for special duties, events or training:
Lord Lieutenant's Cadets, Regional and Corps band members may wear full No 1 Service Dress Uniform (No. 1 SD), when participating in official activities, events or parades;
 No 1 Service Dress Uniform (No1 SD).
Cadets attending dining in nights or formal functions may wear as a temporary Mess (No 4 SD);
No 4 Service Dress – Optional Mess Dress (No 4 SD).
Flying clothing  may be temporarily issued to Cadets, who are undertaking certain types of RAF Air Experience  fights or possibly gliding.
 No 14 Dress (Flying Clothing) (No 14 SD).
Appearance
497 squadron has high standards and cadets are expected to look after and maintain their uniform. Both Cadets and their uniforms are expected to turn out, demonstrating a high level of personal cleanliness and hygiene. Cadets therefore need to be aware of how to wash, dry and iron their uniform; polish boots and any associated metal buckles. Squadron NCO's will provide helpful hints and tips on how to prepare and maintain your uniform.
Unauthorized badges must not be worn. When a Cadet is awarded an officially sanctioned proficiency or rank badge, it must be worn in the correct position on their uniform. It is the cadet's responsibility to securely attach them.
The Air Cadet Organisation also has certain requirements in terms of general appearance, which covers hair cuts/styles, jewellery,cosmetics, body piercings and tattoos, which must be adhered to, when cadets are on duty.
Conduct
The wearing of uniform in public demands the highest standards of dress, bearing and behaviour, and all cadets must be aware that they are effectively representing the Air Cadet Organisation (ACO) and the RAF.  Certain behaviours are required, when in uniform, such as the need to salute commissioned officers. Cadets will receive training in drill and related issues on the squadron.
Staff and cadets when wearing uniform should always be aware that they have a clear duty not to bring the ACO into disrepute as a result of their demeanour or actions, or otherwise to impact adversely on the reputation of the ACO.